'Missiles under IGMDP have been successfully developed'
Submitted by Mohit Joshi on Sat, 01/19/2008 - 00:40
New Delhi, Jan 18: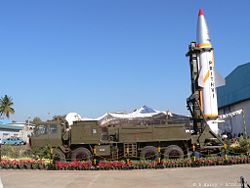 Countering some negative media reports on his press conference on January 8, Defence Research Development Organisation (DRDO) Chief Controller (R and D), Dr. Prahlada, today said the Integrated Guided Missile Development Programme (IGMDP) would come to a successful conclusion in December this year with the final testing of the Nag anti-tank missile.
The IGMDP was begun on July 22, 1983, with plans for the Agni, Prithvi, Trishul, Akash and Nag missiles. Initiated by DRDO scientists Anand Parthasarthy and A P J Abdul Kalam, each programme under the IGMDP was supposed to have been completed by December 1995.
"All these missiles have since been developed and are entering service in one form or another. With this, objectives of the IGMDP originally envisaged stand completed," Dr. Prahlada, who is also the chairman of the IGMDP board, told ANI in an exclusive interview.
"Strategic Missile Program is entirely indigenous and is being pursued through a number of separate projects. All of them are progressing as per schedule and no strategic system has been scrapped," he added.
The successful completion of the IGMDP does not mean that all work on the five missile projects is stopped immediately, he said.
Asked if the IGMDP was going to be replaced by another programme, he said missile-manufacturing capacities have to be expanded and further research and development in this area would be carried on a project-by-project basis.
He said two possible models were the Brahmos supersonic cruise missile that is a joint venture between India and Russia run on commercial lines, and the Astra, a beyond-visual-range air-to-air missile for which the DRDO is tying up with institutions in at least four countries.
Commenting on reports that the government has scrapped the project, Dr. Prahlada said: "One must understand the background of the IGMDP. It was started at a time when there was no help forthcoming from anywhere. That situation is not there now."
Dr. Prahlada said there were organisations from as many as 14 countries that were now willing to collaborate with the DRDO in developing missiles. Among these were the US, Israel, Germany, France and Russia, he added.
Dr. Prahlada said that the Indian media should avoid sensational stories, and added that if everyone thinks of himself or herself, who is going to look after the national interest. (ANI)