Nepal continues to reel under Maoist strikes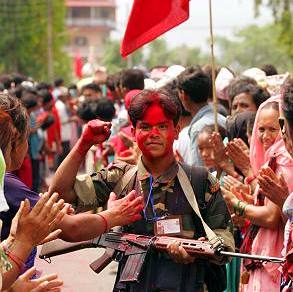 Kathmandu, Dec 7 :  A day after a general strike enforced nationwide by the Maoists, Nepal Monday continued to reel under more strikes called by the former guerrillas, which left hundreds of people in the west stranded.
A union of teachers affiliated to the Maoists shut down all educational institutions in Kathmandu Monday as part of their ongoing protests against President Ram Baran Yadav, who seven months ago caused the fall of the Maoist government.
The former rebels are demanding that the new government correct the move made by the president to reinstate the chief of the army, Gen Rookmangud Katawal, whom they had tried to sack.
Another organisation affiliated to the Maoists called an indefinite education strike in Dang district in western Nepal, demanding permanent employment for part-time teachers and the facilities they said the government had agreed to during earlier negotiations.
But more grave than the education strikes, hundreds of travellers were left in the lurch in Kailali district in farwest Nepal, which has been the epicentre of violence since Friday.
A demolition drive by the government against squatters in Kailali's Dudhejhari forest Friday erupted in violence after the squatters lynched a policeman.
At least six more people died in the ensuing firing by police while the squatters, backed by the Maoists, went on the rampage and set fire to over two dozen vehicles.
While the Maoist leadership in Kathmandu called a general strike countrywide Sunday to condemn what they called "police brutality", their local cadres have called an indefinite shutdown of Kailali that continued Monday.
While Kailali remained crippled by the strike, eight more districts in the region were also affected leading to total disruption of transport.
Hundreds of travellers, many of them India-bound, remained stranded for the second day, fast running out of money and patience.
In Kailali, frustrated travellers demonstrated in front of the chief district officer's office, demanding that the strike be broken and transport services resumed.
The Maoists have called yet another trade and transport strike countrywide Wednesday as well as a three-day general strike from Dec 20.(IANS)