No threat from no-trust motions: Kamal Nath
Submitted by Hardeep Sidhu on Wed, 12/11/2013 - 23:34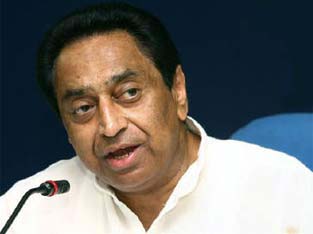 New Delhi, Dec 11 : After three no-confidence motions over the Telangana issue, the government Wednesday said these did not pose a threat and the 2014 general elections would be held on time.
Six Congress, four TDP and two YSR Congress members submitted fresh notices of no-confidence against the United Progressive Alliance (UPA) government in the Lok Sabha but they could not be taken up by Speaker Meira Kumar due to chaos in the House.
The notices given by these members Tuesday too had met a similar fate.
However, the headache is not over for the government as the members are expected to submit fresh notices Thursday also.
According to rules, such notices have to be submitted everyday.
The government falls if these notices, which have to be endorsed by at least 50 MPs, are passed in the House.
"The government has the numbers and any no-confidence motion will not succeed ... The government has majority. So, the question of any no-confidence motion succeeding does not arise," Parliamentary Affairs Minister Kamal Nath told reporters.
The minister also ruled out the government advancing the 2014 Lok Sabha polls scheduled April-May because of this situation.
"There is some speculation that elections may be held earlier. This is absolutely wrong. The UPA government will complete its full term and elections will be held as per schedule in May," Kamal Nath said.
Six Congress MPs from Andhra Pradesh's Seemandhra region, four of the Telugu Desam Party and two belonging to the YSR Congress had submitted the no-confidence motions Tuesday and Wednesday in an attempt to embarrass the Congress.
The Andhra Pradesh MPs are against the government's move to create a separate Telangana state by bifurcating Andhra Pradesh.
The cabinet has approved the bifurcation plan and it now has to be sent to the state assembly by the President.
Home Minister Sushilkumar Shinde Tuesday said the Congress would take disciplinary action against its MPs.
"It is definitely weird but they are pained," Kamal Nath said of the MPs.
Congress spokesperson P. C. Chacko said political parties were not in a mood to support a no-confidence motion just a few months before the next general elections.
"I am sure this notice will be defeated in parliament. With three-four months to go for the general elections, no political party is in a mood to go for no-confidence motion. UPA is confident," Chacko said.(IANS)