Not even 5 percent of allocated money reaches Bundelkhand: Rahul Gandhi
Submitted by Mohit Joshi on Thu, 01/17/2008 - 23:59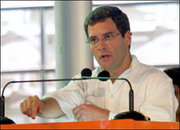 Jhansi, Jan 17: Congress General Secretary Rahul Gandhi today said not even five Paisa out of a Rupee reaching the people here.
Recalling the words of Late Prime Minister Rajiv Gandhi, Rahul said, "My father used to say that only 15 Paisa out of the Rupee reaches people, after the seeing the situation here I feel that not even five Paisa of a Rupee is reaching the people."
He expressed his anguish over the poor state of implementation of the National Rural Employment Guarantee Act (NREGA) scheme in the region.
"I have met people and saw around fifty job cards with the same serial numbers. Most of the job cards do not have a single work entry you can imagine the what the situation is," he said.
Coming down heavily on the Mayawati Government for existing "state of collapse in Bundelkhand region" of the state, Rahul on Wednesday favoured trifurcation of Uttar Pradesh.
"Administratively its too big, I personally think smaller state could be a solution but how it has to done is to be looked into," he said. (ANI)
Technology Sector