October Print Edition Preview : First Edition for October
Submitted by Hina Deshpande on Mon, 10/01/2007 - 00:25
Indians have a reason to feel proud! Team Indian has won First Twenty20 World Cup after beating Pakistan. Captain Dhoni has proved his worth. As the Indian Team has cheered India, Stock Markets have also crossed 17000. Small investors to celebrate as mutual funds offer good return on their portfolios. The UPA government continues to struggle the opposition of Left Front.
Editor's Picks of the week.
Rahul Gandhi upgraded to General Secretary of AICC.
Indian ready to launch Military Applications Satellite.
Stock Picks: Reliance, Reliance Energy, VSNL, SAIL and Bharti Tele.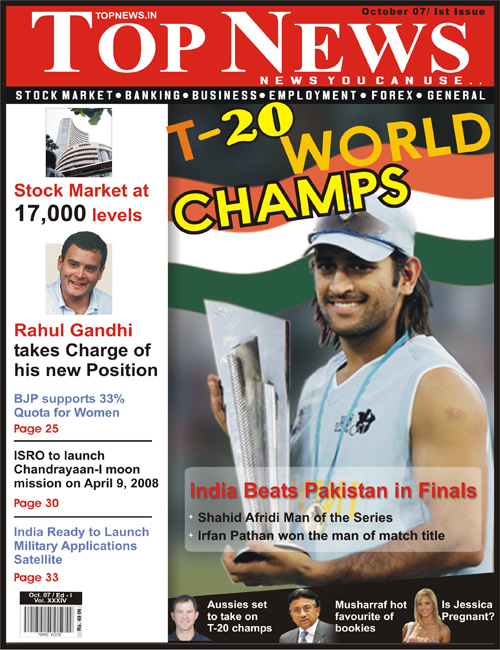 Grab the issue from your local bookshop or newspaper vendor.
For subscriptions please send an email to subscription@topnews.in
We accept payment by
Credit Card
Cheque (Local) / Demand Draft
Cash on Delivery (in NCR only)
(Currently available in India Only)
Technology Sector