Vivienne Westwood
Submitted by Kiran Pahwa on Sat, 04/04/2009 - 19:43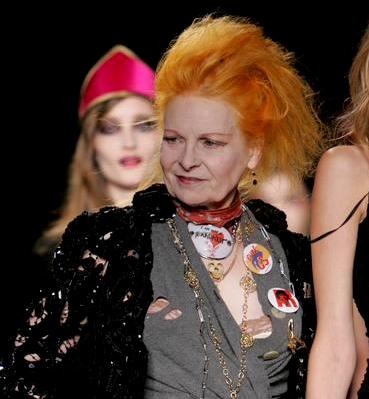 London, Apr 4 : British designer Vivienne Westwood wants First Lady Michelle Obama to be her new muse, it has emerged.
After working with the likes of Pamela Anderson, Kate Moss and Naomi Campbell, Westwood has set her sights on Michelle.
According to sources, Vivienne has been showering her with presents and requests ever since Obama arrived in London.
"Michelle is officially the trendiest First Lady ever. Viv is even talking about designing a handbag in her honour," the Mirror quoted a source as saying.
Submitted by Kiran Pahwa on Mon, 11/17/2008 - 18:25
Washington, Nov 17 : After donning the famous red swimsuit in Baywatch, Hollywood actress Pamela Anderson is set to be the face of punk fashion designer Vivienne Westwood's creation.
The 'Pammy On The loose' actress has reportedly signed a 6-figure deal to be the face - and body - of British designer Westwood''s spring/summer creation due next year (09).
"Vivienne and a team of stylists and photographers jetted to Los Angeles last week to shoot Pammie in the new campaign," Contactmusic quoted a source, as saying.