Philippine police raid on JI lair yields bomb-making materials
Submitted by Sahil Nagpal on Thu, 04/10/2008 - 12:52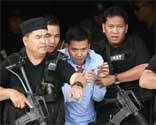 Manila- Philippine police raided a suspected hideout of Jemaah Islamiyah (JI) militants in a province just outside Manila and seized bomb-making materials, a senior official said Thursday.
Police were out to arrest a Filipino JI operative believed to be hiding inside a Muslim compound in Alaminos town in Laguna province, 75 kilometres south of Manila, in the operation late Tuesday, but the suspect escaped, Interior Secretary Ronaldo Puno said.
Among the bomb-making materials seized were 550 blasting caps, 25 time fuses, two detonating cords and chemicals, Puno said.
Government security forces have been conducting operations to arrest Islamic militants allegedly plotting to bomb foreign embassies in Manila and assassinate President Gloria Macapagal Arroyo.
JI is an Islamic terrorism network operating in South-East Asia and linked to al-Qaeda. It has been accused of carrying out some of the worst terrorist attacks in the region, including the October 2002 bombings of two nightspots on the Indonesian island of Bali that left 202 people dead.
It is also suspected of having helped local Abu Sayyaf rebels launch attacks in the Philippines. (dpa)