Philippines, East Timor sign three agreements to boost relations
Submitted by Sahil Nagpal on Tue, 08/12/2008 - 15:03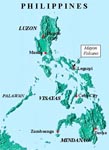 Manila  - The Philippines and East Timor signed on Tuesday three agreements to boost cooperation on marine and fisheries, education and foreign service training.
Philippine President Gloria Macapagal Arroyo and visiting East Timor President Jose Ramos-Horta witnessed the signing of the pacts during their bilateral meeting.
The agreement on marine and fisheries would increase consultations and cooperation in the sustainable development and responsible management of fisheries resources.
The two countries also agreed to enhance academic networking and exchanges, including reciprocal study visits, research grants or scholarships.
The third agreement will allow East Timor junior diplomats to get foreign service training in the Philippines.
Under the pact, the Philippines' Foreign Service Institute will "prepare and implement programmes customized to the training needs of diplomats from the Ministry of Foreign Affairs" of East Timor.
Ramos-Horta arrived in the Philippines on Sunday for a four-day state visit. It is his third trip to the Philippines, but his first as president. (dpa)