PM Modi meets Lanka Prez Rajapaksa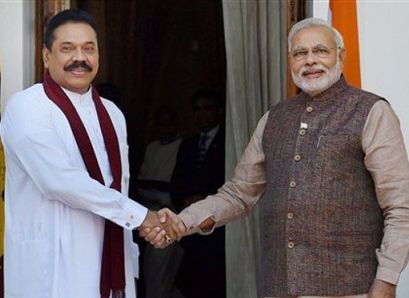 Kathmandu, Nov 26 : Prime Minister Narendra Modi on Wednesday met Sri Lanka President Mahinda Rajapaksa on the sidelines of the South Asian Association for Regional Cooperation (SAARC) Summit being held here.
The two leaders discussed matters pertaining to the interest of both nations.
Prime Minister Modi also thanked President Rajapaksa after the latter's government released five Indian fishermen who had been incarcerated in a Sri Lankan prison and sentenced to death.
"PM @narendramodi thanks Prez @PresRajapaksa for pardoning and sending back 5 Indian fishermen earlier this month" Ministry of External Affairs official spokesperson Syed Akbaruddin tweeted during the meeting between the two leaders.
The Colombo High Court had on October 30 sentenced the five fishermen from Tamil Nadu - P Emerson, P Augustus, R Wilson, K Prasath, and J Lanklet - to death on charges of smuggling 995 grams of heroin. They were arrested by the Sri Lankan Navy for heroin trafficking in 2011.
According to reports, Prime Minister Modi intervened in the matter and spoke to President Mahinda Rajapaksa , following which the Sri Lankan authorities decided to release the five fishermen. (ANI)