PM to seek ideas from industry leaders to boost economic growth
Submitted by Keshav Seth on Mon, 07/29/2013 - 22:53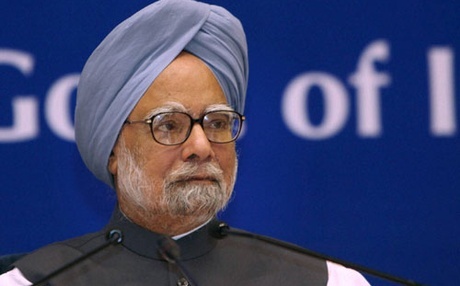 Prime Minister Manmohan Singh will hold a meeting with industry leaders to discuss issues relating to downcast economic growth and explain the measures taken by the government to address the issues.
Mr. Singh's meeting with the members of the Council on Trade & Industry is scheduled to start at 6 pm on Monday, July 29. RIL Chairman Mukesh Ambani, Wipro Chairman Azim Premji, HDFC Chairman Deepak Parekh and ICICI Bank MD and CEO Chanda Kochhar are some of the members of the Council on Trade & Industry who are expected to attend the meeting.
Sources said the prime minister will seek ideas from industry leaders to provide a much-needed boost to the economy, which grew at a rate of just 5 per cent during the last financial year - its lowest growth rate in around a decade.
The meeting is going to take place as the Reserve Bank of India (RBI) has taken liquidity tightening measures to arrest fall in rupee's value against foreign currencies. The central bank intervened earlier this month after the Indian currency slipped to its all-time low of 61.21 against the US dollar.
In the domestic equity market, the risk-reward ratio has tilted towards risks as the economy is being haunted by both internal and external challenges.
K R Choksey Shares and Securities' managing director Deven Choksey said, "The biggest threat to the market right now is the risk of a sovereign downgrade to junk rating, which may force foreign institutional investors to withdraw their investments."
Mr. Singh is also expected to tell the industry leaders that the government too shares their worries on the tightening of interest rates. Over the past couple of weeks, RBI hiked all key interest rates except the repo rate.