Portuguese Socialists pursuing minority government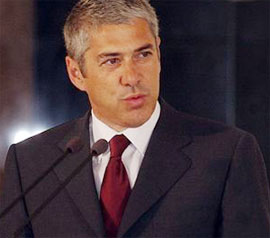 Lisbon  - Socialist Prime Minister Jose Socrates will attempt to rule through a minority government, he announced late Thursday after coalition talks collapsed.
He accused the entire opposition of refusing to engage in "dialogue" without preconditions.
Socrates heads the social-democratic Socialist Party (PS), which won a plurality of 36.5 per cent in September 27 parliamentary elections but lost its 2005 absolute majority.
He is due by the end of next week to present a new cabinet to Parliament and Portuguese President Anibal Cavaco Silva.
The Socialists will have 97 of 230 seats in Parliament. The other blocs in the new Parliament - two conservative parties and two leftwing parties - have expressed a willingness to cooperate on specific policies, Socrates said. (dpa)