Punjab Police seize 12 kilogram of heroin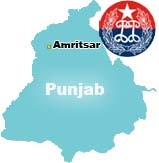 Amritsar, Apr 30, : Punjab Police on Wednesday arrested three smugglers, including a woman and recovered 12 kilograms of heroin from their possession.
This is the second arrest within a week by the Punjab Police. Earlier on April 25, police had seized 18 kilograms of heroin from three smugglers.
The consignment was brought from Pakistan via Jammu and it was to be sent to Delhi.
Those arrested include Vidyasagar (Jammu), Baldev Singh (Ludhiana) and Rajbir Kaur (Amritsar).
Talking to reporters here, Kunwar Vijay Pratap Singh, Senior Superintendent of Police (SSP), Amritsar, said that acting on a tip off, the District Police had laid a trap near bus stand and recovered 11 kilograms of the consignment and arrested two people.
One kilogram of heroin was seized from Rajbir Kaur. She is the wife of Baljinder Singh alias Satnam Singh who escaped from police custody some three weeks back. She has also been booked under various sections of the Indian Penal Code (IPC) for helping Baljinder to escape from custody.
She was earlier arrested for violating the Narcotic Drugs and Psychotropic Substances Act (NDPS), but was released on bail lastNovember.
India is viewed as a major transit point for drug smuggling to the West.
Heroin is derived from morphine, a naturally occurring substance extracted from the seedpod of the Asian poppy plant, and is marketed as a white or brown powder. (ANI)