Punjab police seize 18 kg heroin in Amritsar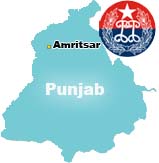 Amritsar, Apr 25 : Punjab police on Friday seized 18 kilograms of heroin from Amritsar, from a gang of drug peddlers with links to foreign countries.
Acting on a tip off, the police arrested three people Jagjit Singh, Mahavir Singh and Kirpal Singh, as a part of their special operation undertaken to check drug peddling in the region.
The police allege that the gang is involved in drug pushing at the international level with links to Pakistan and other countries.
"Under the special operation undertaken on a tip off, we busted a gang of international drug peddlers and recovered 18 kg of heroin from them. We have also arrested three people in the case. These people used to smuggle heroin from Pakistan and sent it to other countries," said Vijay Pratap Singh, Senior Superintendent of Police
(SSP), Amritsar.
The police also recovered a .32 bore pistol from the peddlers.
India is viewed as a major transit point for drug smuggling to the West.
Heroin is derived from morphine, a naturally occurring substance extracted from the seedpod of the Asian poppy plant, and appears as a white or brown powder. (ANI)