Rahul Gandhi to kick-off another road show in Gujarat
Submitted by Sahil Nagpal on Fri, 12/14/2007 - 13:40
Vadodra, Dec 14: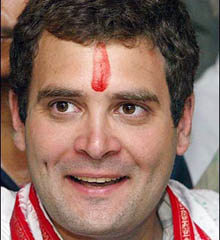 Congress MP from Amethi, Rahul Gandhi, will kick-off his second leg of road show for the second phase of Gujarat Assembly elections here today.
Rahul will conduct a road show in Vadodara as the campaigning will come to an end today.
During his road show, Rahul will address three public meetings in three assembly constituencies.
Earlier, Rahul had a road show in Surat where he urged the voters not to get carried away by "lies of the BJP Government in the State" and said that he has come to talk about future and not the past.
Coming down heavily against the Narendra Modi Government in the State, Rahul had said, " This government (BJP government in Gujarat) thinks that if a lie is said at a high pitch it becomes a truth by magic. This government thinks that if a lie is said in fierce manner, people speaking truth will run away. "
The second phase of polling on December 16 will cover 95 constituencies in central and north Gujarat. The counting of votes will take place on December 23.
The term of the State's Legislative Assembly expires on December 26.
The BJP won 127 seats, while the Congress party won 51 seats in the 2002 Gujarat Assembly polls. The Janata Dal (United) and independents won two seats each. (ANI)
Technology Sector