Rahul to hit campaign trail in Karnataka today
Bangalore, May 12 :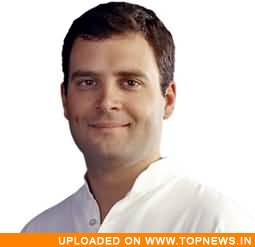 Congress General Secretary Rahul Gandhi will hit the campaign trail during the second phase of Assembly election in Karnataka today.
During his visit, Rahul will address public meetings at Kumta in North Canara district and Kundapur in Udipi district.
Later, he is also scheduled to address public meetings at Modgere-Sc in Chikmanglur district and Harpanhalli in Devengere district.
Rahul's five-day visit to Karnataka was described as a source of inspiration for the party's young brigade.
A majority of the young leaders in Karnataka feel that Rahul's visit will help youngsters in the party to come forward to take the mantle of leadership forward.
Congress President Sonia Gandhi will also campaign for the second phase of assembly elections in Karnataka on May 13.
According to Congress sources, Sonia will address poll rallies in Koppal and Mangalore.
Of the 224 assembly segments in the state, 66 will go to polls in the second phase on May 16 and the remaining 69 in the third phase on May 22.
On May 11, an average of 66 per cent polling was registered in the first phase of elections in the segments spread over 11 districts.
In the first phase of Karnataka assembly polls, 66 per cent of 1.73 crore electorate exercised their franchise in 89 of the total 224 constituencies in the dominant Vokkaliga belt, home turf of JD-S leader H D Deve Gowda and Congress strongman S M Krishna.
This is higher than the 65.07 per cent average polled in the 224 assembly segments in 2004 polls. (ANI)