A Raja's declared assets not even decimal fraction of 2G scam's Rs 1.76 lakh crore figure
Submitted by Neha Malik on Thu, 04/03/2014 - 20:10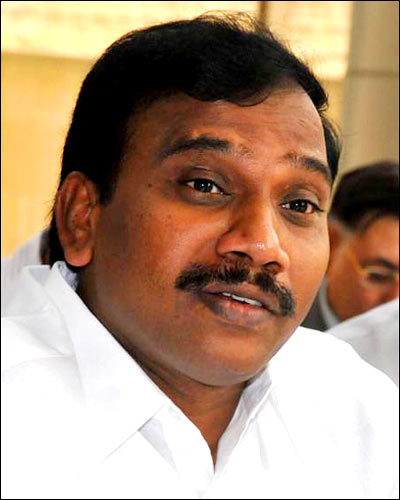 A Raja, former union telecom minister who allegedly played the key role in the Rs 1.76 lakh crore 2G scam, claims to have a family asset value of just Rs 3.61 crore.
Filing his nomination on Wednesday, Raja declared along with other members of his family had inherited property under the Hindu Undivided Family worth only Rs 3,61,29,915. DMK has once again fielded Raja from the Nilgiris Parliamentary constituency.
According to his affidavit, he owns movable assets worth around Rs 1.45 crore, and immovable property worth Rs 14.87 lakh. He has a house in Tiruchy valued at Rs 32.85 lakh. In addition, he claimed that he didn't acquire any gold during the past five years.
Raja holds shares in a number of companies, including Aurum Soft Systems Ltd, BF Investment Ltd, Infodrive Software Ltd, and Ecowave Infotech Ltd of West Bengal. His wife holds shares in Infodrive, TwentyFirst Century (India) Ltd and Dignity Supplier Ltd of Kolkata.
The former telecom minister also claimed that he has an Income Tax (I-T) liability of up to Rs 25.52 lakh, and liabilities of up to Rs 35.51 lakh by way of loans.
While his wife earned an income of Rs 5.74 lakh during the FY2012-13, he earned Rs 8.09 lakh.
The figures are trivial considering that the assets declared by Raja are not even a decimal fraction of the massive amount that he allegedly has deprived the country of.