Rajasthan villagers plant 105,000 saplings in three minutes 50 seconds
Submitted by Sahil Nagpal on Thu, 08/07/2008 - 17:50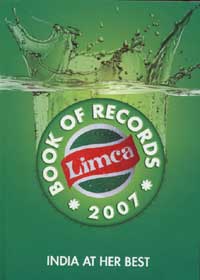 Bikaner, Aug. 7 : Residents of Gajrupdeshar and a few other villages under Nokha Tehsil in Rajasthan's Bikaner District are claiming to have set a new record by planting 105,000 saplings in three minutes and fifty seconds this past week.
Over 8,000 schoolchildren and more than 6,000 villagers participated in the mass plantation drive organized with the objective of encouraging villagers to take up afforestation and bring greenery to the desert State.
"The sole aim of this drive was to bring a revolution in plantation in every house and village of this desert state. It is possible only when all the people set an example of community participation. One lakh and five thousand saplings have been planted and the entry of this record should be made in the Limca Book of Records, as this task has been accomplished in three minutes and fifty seconds only," said Virendra Chaudhary, the organizer of the plantation programme.
The organisers are now demanding that this record be listed in the Limca Book of Records.
"The plantation of one lakh five thousand trees in three minutes and fifty seconds in Gajrupdeshar is a unique experiment and should be listed as a world record. Its aim is to inculcate such an environment of community service in the students, so that a new process and a new discourse of green world can be started," said Shyam Sunder Jani of National Welfare Association, co-organiser of the tree plantation programme.
The District administration also lent full support to the plantation drive.
" We have made arrangements for water supply. We will take care of the plants and the trees with full responsibility," said Rameshwar Dudi, the District Collector of Bikaner.
The acclaimed Rotary Club, NCC and many like-minded other forums contributed to make the plantation drive a success. (ANI)