Rawalpindi Police charge Baitullah Mehsud with Benazir's murder
Islamabad, Mar. 2: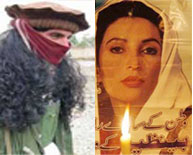 Police in Rawalpindi have charged local Taliban commander Baitullah Mehsud with the murder of former premier Benazir Bhutto and declared him an absconder.
"We have submitted preliminary charges against Baitullah Mehsud in connection with Benazir Bhutto's murder in an anti-terrorism court Rawalpindi," a foreign news agency quoted a senior police official, as saying.
"The court has declared Mehsud and four other suspects absconders in the case and issued non-bailable warrants for their arrest," The Nation quoted the official as saying further. He, however, declined to give further details.
Five other people have already been arrested in connection with the gun and suicide attack in Rawalpindi on December 27.
Benazir was the target of militants because she had backed the government's action against terrorists and was seen as pro-Western, according to investigators. Her Pakistan People's Party has demanded a UN probe rejecting the findings of Scotland Yard that a lone assassin shot her but missed and then detonated explosives, which made her fatally smash her skull against her car. (ANI)