Red Fort Gets World Heritage Site Rank
Submitted by Bhuvan Kala on Fri, 06/29/2007 - 23:14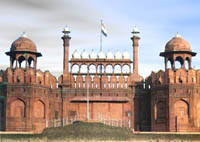 New Delhi: The UNESCO has given the world heritage status to the the 17th century Mughal wonder, Red Fort on Thursday.
Opposed against 45 other sites from all over the world, the 'Red Fort' is among the four cultural sites that were picked out by UNESCO's World Heritage Committee that is presently assembling in New Zealand to select the next heritage sites.
The other sites that will now be included in the UNESCO's World Heritage List are Japan's Iwami Ginzan Silver Mine, Turkmenistan's Parthian Fortresses of Nisa and Australia's Sydney Opera.
Red Fort is considered to symbolize the celestial point of Mughal creativeness that under Emperor Shah Jahan was brought to a new refinement level.
The planning of the castle is based on Islamic paradigms, but each exhibition area displays architectural constituents emblematic of Mughal building, reflecting a fusion of Persian, Timurid and Hindu traditions, UNESCO said in a statement.
Red Fort's innovational planning and style of architecture, comprising its garden design, powerfully charmed later buildings and garden in Rajasthan, Delhi, Agra and further afield.
Technology Sector