Reliance Power IPO To Debut On January 15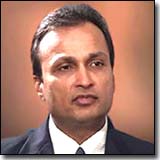 Reliance Power, a subsidiary of Reliance Energy, has finally fixed the price range for its IPO at Rs 405 - 450 per share.
The issue will open on January 15, 2008 and close on January 18, 2008, an official release said.
The IPO estimated to raise between Rs 10,500 crore to Rs 11,700 crore with the sale of 26 crores shares in the public offer, making it the biggest ever IPO proceeds in India.
Reliance Power Limited, a part of the Reliance Anil Dhirubai Ambani Group (ADAG) has been established with the objective to develop, construct and operate power projects both domestically and internationally. Presently, the company engaged in the construction and development of various gas and coal based thermal power projects and hydro power projects in various parts of the country, of over 28,000 MW capacities.
However, the retail investors will be asked to pay a lesser amount at bidding, and will have to pay the balance only at allotment, which means that retail investors need to pay only 25% of the total investment amount at the time of submitting the application and the balance amount at the time of allotment. The company has fixed convenient payment terms for all categories of investors.
The issue proceeds are proposed to be utilized for funding subsidiaries to part-finance the construction and development costs of the various projects under development and for general corporate purposes.
Recently, Indian rating agencies, CRISIL & ICRA has assigned "IPO Grade 4/5", to the proposed initial public offer of the Reliance Power Limited.
The assigned rating grade indicates that the fundamentals of the issue are above average, in relation to other listed equity securities in India.
Rating agency assigns IPO grading on a scale of IPO Grade 5 to 1, with Grade 5 indicating strong fundamentals and Grade 1 indicating poor fundamentals.
Rating agency, ICRA stated in a release that the grade assigned reflects the benefits arising out of being a part of the Reliance ADA Group, which has considerable experience across the value chain in the power sector and the expected cost competitiveness of most of the power projects in relation to the markets it proposes to serve.
While, the CRISIL said, "The grade assigned reflects the Reliance ADA Group's commitment that Reliance Power will be the sole repository of the Group's economic interest in the power generation segment."
However, the CRISIL grading is tempered by the fact that Reliance Power is planning to put up capacity, on a scale and within a time frame, never attained in India before and therefore it is likely to face significant execution challenges.
The issue is planned to be listed on the BSE and the NSE. The company has appointed ICICI Securities, Kotak Mahindra, JM Financial, ABN Amro Rothschild, Deutsche Bank AG, Enam Securities, JP Morgan Chase & Co, and UBS AG as lead bankers to the IPO.