Rovio to launch new version of Angry Birds on March 22
Submitted by Devang Murthy on Tue, 02/21/2012 - 13:12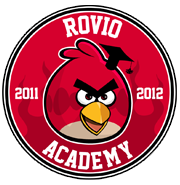 Rovio might be planning to release a completely new version of its popular Angry Birds game on 22 March.
The new game will be the company's first official launch following the launch of Rio earlier in 2011. A new teaser for the game has surfaced, but there is not much information about Angry Birds Space.
The Angry Birds Space is expected to be a completely separate game. According to some reports, the players will be taking the birds to new planets where they could face zero gravity and the game could involve slow motion puzzles and 'lightspeed' destruction.
Yahoo's Plugged In blog said that NASA and National Geographic are partnering Rovio as launch partners for the new game. However, further information about their contribution is not available. Angry Birds Space is expected to launch not only for mobile phones but also through retail and animation channels for the gamers from around the world.
Angry Birds Rio was released in partnership with 20th Century Fox. The game is based on an Angry Birds movie of the same title that the company made with Fox.