Rupee edges lower after surging to three-week highs
Submitted by Mohan Kumar Shr... on Thu, 07/03/2014 - 23:32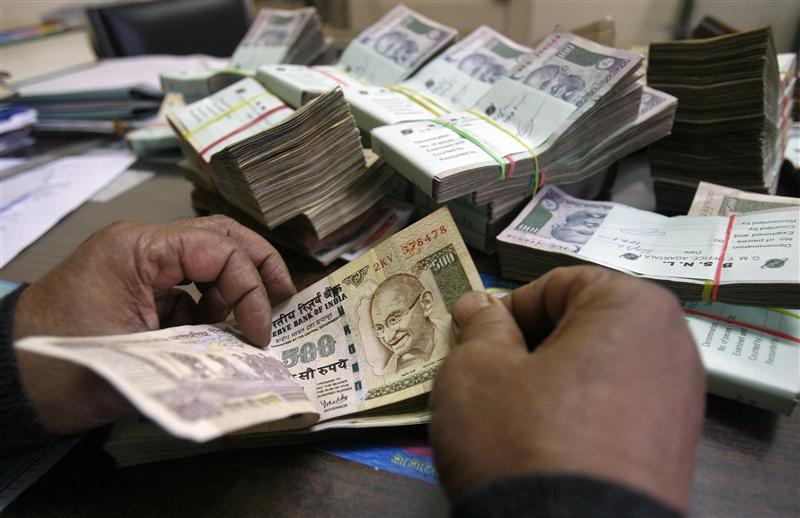 Mumbai: The rupee Thursday surged to three-week highs in early trade but closed four paise lower at 59.73 against the dollar on weakness in local stocks and persistent demand for the American currency from importers, including oil firms.
A firm dollar overseas ahead of crucial US payrolls data and a meeting of the European Central Bank also weighed on the rupee, say forex dealers.
At the Interbank Foreign Exchange (Forex) market, the domestic unit commenced a tad higher at 59.68 a dollar from previous close of 59.69. It then moved in a range of intra-day high of 59.52, its strongest since June 13, and a low of 59.8450 before concluding at 59.73, a fall of four paise or 0.07 percent.
Yesterday, it had surged by 38 paise on Budget hopes.
The Indian benchmark S&P BSE Sensex today eased by 17.46 points, or 0.07 percent. FIIs had bought shares worth Rs 1,290.68 crore yesterday, as per provisional data.
However, in the overseas market, the dollar was trading higher against the euro. The dollar index was up by 0.13 percent against its major global rivals.
Pramit Brahmbhatt, Veracity Group CEO, said: "The USD-INR pair is likely to trade range bound as investors are trading cautiously and are waiting for the Budget scheduled on July 10. The trading range for the spot rupee is expected to be within 59.40 to 60.40."
Meanwhile, the premium for forward dollar moved down on fresh receipts by exporters.
The benchmark six-month premium payable in December declined to 255-257 paise from last close of 258-260 paise.
Far-forward contracts maturing in June, 2015 also eased to 504-506 paise from 506.5-508.5 paise. The Reserve Bank of India fixed the reference rate for dollar at 59.7225 and for the euro at 81.5415.
The rupee improved further against the pound to 102.31 from 102.45 previously and also remained firm to end at 81.53 per euro from 81.57.
It firmed up further to 58.63 per 100 Japanese yen from 58.82.--- PTI