Rupee falls for third-straight day, closes at 59.15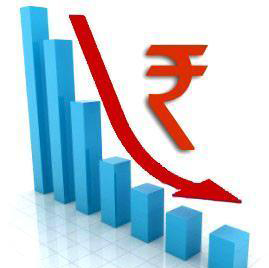 Mumbai: Ignoring the surge in local stocks, the rupee continued its downfall for the third straight day as it lost four paise against the dollar to end the day at 59.15.
Forex dealers said the rupee remained under pressure due to sustained demand for the US currency from importers, mainly oil refiners, amid firm dollar overseas.
Increased dollar inflows into local equity markets restricted the rupee rupee fall, they added.
At the Interbank Foreign Exchange (Forex) market, the domestic unit commenced sharply weak at 59.27 a dollar from last close of 59.11 and immediately touched a low of 59.29.
However, a strong rally in local equities helped the rupee recover to a high of 59.06 before ending at 59.15, still showing a fall of four paise from its previous close.
The benchmark BSE Sensex, meanwhile, jumped by 467.51 points or 1.93 percent.
FIIs infused Rs 2,977.62 crore last Friday, as per provisional data with stock exchanges.
The dollar index was up by 0.13 percent against its six major rivals.
Pramit Brahmbhatt, Veracity Group CEO, said: "Investors are waiting for RBIs credit policy due this week which will raise the curtains for the market. It is expected that the central bank will keep rates unchanged."
The benchmark six-month premium payable in November ended at 250.5-252.5 paise as against previous close of 244-246 paise. Far forward contracts maturing in May, 2015 ended at 495-497 against 476.5-478.5 previously.
The Reserve Bank of India fixed the reference rate for dollar at 59.13 and for the euro at 80.62.
The rupee remained weak at 99.06 against the pound from 98.91 last weekend. It declined to 80.51 per euro from 80.44. It, however, recouped to 57.98 per 100 Japanese yen from 58.13. --- PTI