Rupee gains most in over 10 days, ends at 60.07 Vs US dollar
Submitted by Mohan Kumar Shr... on Tue, 07/01/2014 - 22:20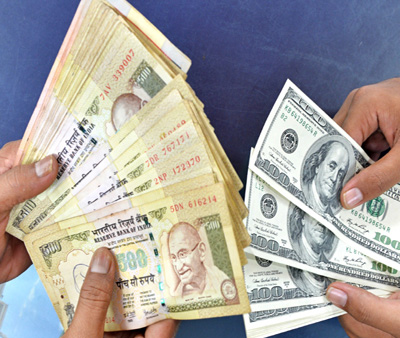 Mumbai: In line with rise in stocks, the rupee Tuesday rose by 10 paise -- its biggest single-day rise in over ten days -- to end at 60.07 against the dollar after the government hiked fuel and LPG prices to ease subsidy burden.
Fresh dollar selling by exporters too aided the rupee rise but gains were capped as the dollar index was marginally up against its global peers, a forex dealer said.
At the Interbank Foreign Exchange (Forex) market, the domestic unit commenced higher at 60.10 a dollar from previous close of 60.17. It was then trapped in a narrow breadth of 60.0550 and 60.20 before settling at 60.07, a net gain of ten paise or 0.17 percent.
In absolute terms, today's gain of 10 paise was the best since the 31-paise rise on June 19.
Yesterday, it had dropped nine paise or 0.15 percent.
Price of non-subsidised cooking gas (LPG) was today hiked by Rs 16.50 per cylinder after international oil prices surged due to the ongoing Iraq crisis.
The increase in rates of non-subsidised LPG came after the Rs 1.69 a litre hike in petrol and 50 paise a litre in diesel announced on Monday.
Moody's Investors Service in a report said its expects the government to increase the retail selling prices of controlled fuel products, kerosene and liquefied petroleum gas (LPG), to help control its subsidy burden.
Pramit Brahmbhatt, Veracity Group CEO said: "Rupee continued to trade range bound to slightly strong. The trading range for the spot rupee is expected to be within 59.50 to 60.50."
Extending the rally for the third straight session, the benchmark S&P BSE Sensex today improved further by 102.57 points or 0.40 percent. FIIs infused Rs 1,288.16 crore yesterday, as per provisional data with stock exchanges.
The benchmark six-month premium payable in December eased to 259-261 paise from 260-262 paise previously.
Far-forward contracts maturing in June, 2015 rose to 498-500 paise from 495-497 paise.
The Reserve Bank of India fixed the reference rate for dollar at 60.1370 and for the euro at 82.2830.
The rupee dropped further against the pound to 102.95 from last close of 102.57 and also softened to 82.22 per euro from 82.17.
It, however, rebounded to 59.15 per 100 Japanese yen from 59.37. --- PTI