Rupee Resilient Against Dollar In Early Trade
Submitted by Sameer Kapoor on Tue, 07/10/2007 - 23:53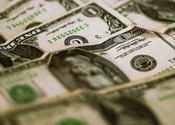 The Indian Rupee showed some resilience resuming higher against the US currency in early trade today.
The local currency resumed higher at 40.39/40 a dollar from overnight close of 40.42/43 per dollar but later fell back to 40.41/42 a dollar in late morning deals in quiet trade at the Interbank Foreign Exchange (forex) market.
Traders are expecting the Reserve Bank of India's (RBI) intervention in the exchange market when the rupee crosses 40.40 levels.
According to a forex dealer, there is no dollar selling in the market at this stage. The rupee is driven by consistent inflows but the central bank has been trying to keep the 40.40 level; the rupee has gained more than 9 % against dollar so far this year, largely because of FII inflows.