Samsung introduces Galaxy Note II with 5.5-inch screen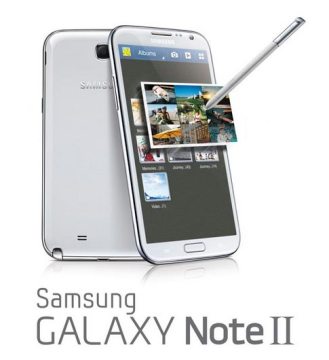 At the presently-underway IFA 2012 consumer electronics show in Berlin, Samsung took the wraps off its Galaxy Note II phablet --- an upgraded version of the company's offbeat Galaxy Note smartphone-cum-tablet device.
Thinner and longer than the original Galaxy Note, the newly-introduced Galaxy Note II from Samsung features a 5.5-inch display with AMOLED touchscreen and a 1280x720 pixel density. Despite the fact that the screen of the new Galaxy Note is bigger than the original Note, the new phablet is actually narrower than its predecessor because of a reduced frame around the screen.
Boasting a notably speedy 1.6 GHz quad-core processor, the new Galaxy Note II phablet features 2GB RAM; an 8-megapixel AF/ Touchfocus rear camera capable of full HD video recording and playback; and a 1.9-megapixel front camera.
Running the latest Android OS 4.1 `Jelly Bean' version, the Galaxy Note II will be a 4G-enabled phablet which will come with an improved S Pen stylus, and will be available in three on-board storage versions --- 16GB, 32GB and 64GB; with the 16GB and 32GB versions expandable to 64GB.
In addition, according to a Tech2. com report, Samsung's new notched-up Galaxy Note II - the pricing and availability of which still remains undisclosed - will also come with the Air View feature, which will essentially allow the users to hover the S Pen stylus almost 10mm over the phablet's surface to preview their emails, video, S Planner, or image gallery, without having to open it.