Samsung Pixon M8800 Touchscreen Phone to be unveiled in October
Just recently Samsung Omina had embellished the family of Touchscreen Phones,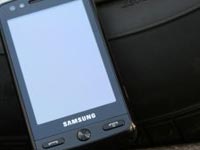 and now only a few days after, Samsung has come out with a similar set with 8 megapixel camera.
A secret announcement has been made by Samsung about the successor of the Samsung i8510 INNOV8's, that is the M8800 called as Pixon, with the code name of Brensson. This new edition is a touch screen phone, which will be in direct competition with the LG KC910 Renoir, that also has a camera of 8 mega-pixel.
The price of the Samsung M8800 will be $979, which is much more than the LG KC910 that has been priced at $800.
There are yet more for you to know about the new Samsung touch Screen M8800. It features features 3.2-inch screen offering 240x400 resolution and TouchWiz, which is same to Omnia. Other than this, it has an 8 mega-pixel camera that enables you to have a maximum image resolution of 3264x2448 with auto-focus, face-recognition, Wide Dynamic Range, Advance Shake Reduction, GPS geo-tagging support, and WSVGA and VGA video recording at 30fps.
To add cherry over a sundae, it will offer you 3G support for great internet speed, as it is supported by Qualcomm MSM6281 chip. Additionally it has got support from quad-band GSM and tri-band HSDPA networks. But disappointingly, this handset will not offer Wi-Fi and a 3.5mm jack. It is being expected to be launched in October.