Seven killed in attack on Somali parliament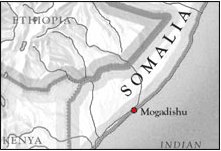 Nairobi/Mogadishu - At least seven persons were killed when armed militias attacked the Somalian parliament building on Saturday, the radio broadcaster Radion Garowe reported Sunday. At least three mortars struck the building in an attack coming shortly after deputies had met to debate the government's new budget proposals, the radio said.
Parliamentary speaker Aden Madobe said no deputies were injured, but among those killed was a security official. Other mortars struck nearby apartment buildings and a student dormitory, killing a number of pupils. About 15 people were wounded, the report said.
As of Sunday, no group had claimed responsibility for the attack.
Several radical Islamic militia groups in Somalia are boycotting the peace process of President Sheikh Sharif Ahmed and are continuing their armed activities even though Sheikh Sharif introduced Islamic law several weeks ago and with the help of religious leaders has sought to establish dialogue with the radical groups. (dpa)