Simone caught Shane Warne one more time for cheating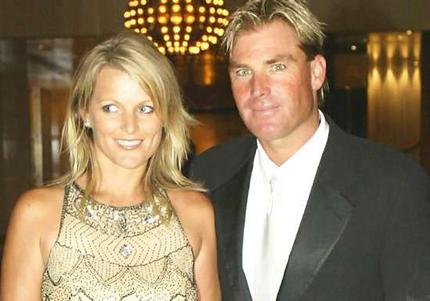 Sydney, Sept 24: Spin bowling wizard Shane Warne has again cheated on his wife, Simone Callahan, it has been revealed.
Simone split up with Warne after she discovered an incriminating text message while getting the children ready for school.
Simone told New Idea magazine that she received a text message from Warne that said: "Hey beautiful, I'm just talking to my kids, the back door's open".
Simone promptly sent a message back to Warne that said: "You loser, you sent the message to the wrong person".
According to the magazine, the former cricketer confessed to the affair soon after.
Associate editor of New Idea, Sue Smethurst, whom Simone told about the affair, said, the relationship between the two was definitely over.
"The text confirmed her suspicions that Shane was having an affair. Obviously, she was devastated," said Smethurst.
Smethurst said Simone was truly trying to make the relationship work until the latest affair, but there was no way she'd try again.
"Not now, she's given the relationship her fair share. I'm not sure if the children are entirely aware of the situation," Smethurst added.
Simone broke up with Warne in 2005 after claims surfaced that he had cheated on her at least three times in less than a year.
In January this year, Simone flew over to the United Kingdom to get back together with Warne.
But now, she is apparently in no mood to forgive the spin legend.
"I knew he was up to no good. I'm angry that I was fooled again," the magazine quoted Simone as saying.
The couple have three children. (With Inputs from ANI)