Sugarcane farmers take to jaggery production in Gwalior
Submitted by Sahil Nagpal on Fri, 12/28/2007 - 22:56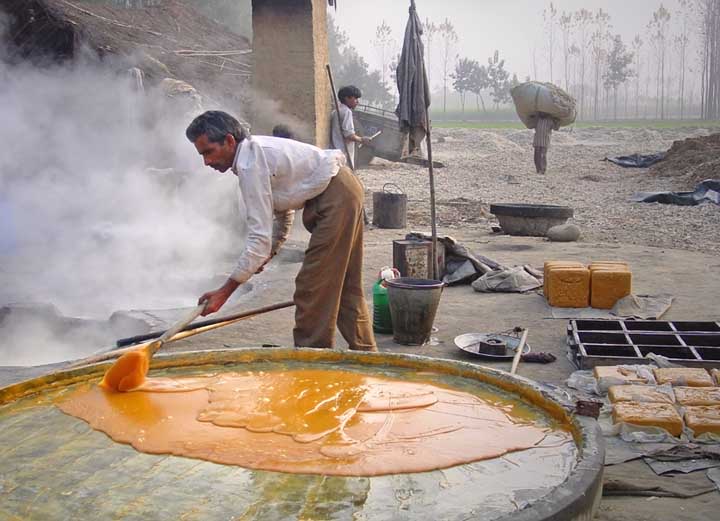 Gwalior, Dec.28: Disappointed with the closure of the only sugar mill in their district and non-payment of their dues, many sugarcane farmers in Gwalior have taken to jaggery production.
They were compelled to sell off their yield at throw away rates to local crushers or survive on jaggery production.
Dabra Gwalior Sugar mill, located in Dabra Tehsil (sub division) of Madhya Pradesh, was the main purchaser of sugarcane grown in the region. But it was closed following financial losses and non-payment of rupees 100 million as arrears of the local farmers.
According to the President of the Sugarcane Production Cooperative Committee in Gwalior, despite constant requests by farmers, the local administration has done nothing to resolve the long pending matter.
"Our payments are due with this factory but the administration is doing nothing. The sugar factory has to pay farmers rupees seven crores (rupees 70 million) for this year's sugarcane supply. Payments are due since 2003. The factory is under a debt of around rupees rupees 10 crore (rupees 100 million)," said Ram Kishore, President Sugarcane Production Cooperative Committee of Gwalior.
Dabra region is known for its sugarcane production and at least 70 per cent farmers survive on this crop here. In the absence of a sugar mill, farmers are compelled to sell their sugarcane to local crushers; at unreasonably low rates, Ram Kishore added.
Many of these sugarcane farmers have now set up crushers to produce jaggery.
On each quintal, these crusher owners earn mere between rupees five to 20 as net profit, depending on the quality of jaggery. In the past three years, the number of crushers in Dabra has grown to 400.
"We are benefited by crushers. At one quintal jaggery, we save around 15/20 rupees. Many crushers are coming up in this area. Here, around 400 crushers are flourishing in this area. As the factory is shut down, farmers are selling their sugarcane at low rates to crusher owners," said Narendra Rawat, one of the sugarcane farmers-cum-crusher owners.
"The existing market rate of jaggery is rupees 800 per quintal. Crusher owners are buying sugarcane at a rate of rupees 55 or 60. On every quintal we earn around Rs 5 quintal," said Sunil Kumar, a jaggery maker.
Many well-off farmers too have set up their own crushers. But the marginal sugarcane farmers are not in a position to spend even a few thousand rupees to get into the business of jaggery making, said a farmer.
Some farmers in Dabra are on an indefinite sit on to protest the ignorant attitude of the local administration and sugar mill owners here. They are demanding government help as they are a cottage industry. (ANI)