Suicide prevention a health priority: Harsh Vardhan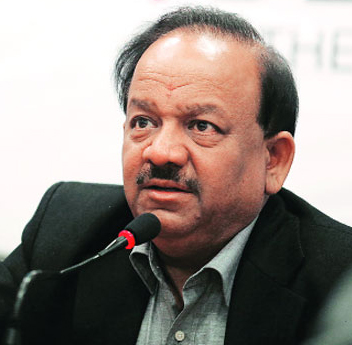 Thrissur (Kerala), Sept21 : Union Health Minister Dr Harsh Vardhan has expressed grief over the national loss in valuable human resources which is owed to the rising tendency of young people to commit suicide when facing seemingly unconquerable adversity.
"The mounting incidence of suicide has become a public health issue of global importance as brought out by the World Health Organisation in a recent report. The government will adopt a strategy on suicide prevention which will stress on counselling and wider spread of treatment centres for depression," Dr Harsh Vardhan said while inaugurating a mass contact programme on Saturday to conscientise the general public about the increasing rate of suicides.
"This is no age to die. These are people who could contribute a lot to nation building because a great number of them are well educated. They took the extreme step out of depression forced on them by some form of disillusionment. With timely counselling they could have been saved," the Union Minister added.
He pointed out that between 1.5 and 2 million people commit suicide in India annually.
For every suicide committed successfully, a minimum of 15-20 people fail. Besides, not all suicides are reported to the police because of the stigma attached.
"Medical students, management students, engineering students, young professionals and even government officials are committing suicides in large numbers. This has serious implications for the future," the Minister said.
He urged the parents of young children to instill in their progeny values of patience and magnanimity.
He counselled, "Do not pressure them to achieve impossible goals. Love them for what they are instead of taunting them for not living up to your ideal. That way they will never even think of committing suicide."
It is significant that the highest number of suicides is reported from states with a high literacy level. Maharashtra, Tamil Nadu, West Bengal, Kerala and Karnataka report more than 53 percent of the national total.
Dr Harsh Vardhan said that as part of a move to experiment with suicide prevention strategies, the National Institute of Mental Health and Neuro Sciences, Bangalore has initiated a public outreach programme to spread awareness on suicide s and prevent people from taking the extreme step when they manifest early signs of a suicidal streak. Already 28 countries round the world undertake such programmes.
"This programme, called 'Gatekeeper', involves training people from all walks of life with knowledge and basic skills on suicidal instinct identification. These 'gatekeepers' would infiltrate society and keep their senses open to detect cases which they report for counselling. A prominent NGO is partnering NIMHANS in this initiative," the Minister revealed.
The government has also decided to bring mental illnesses under the purview of the Universal Health Assurance Programme (UHAP), the Minister informed. This has been recommended by an expert group constituted to conceptualise what is slated to be the world's largest ever public health mission. (ANI)