Sushma Swaraj announces BJP's development plank ahead of Assembly polls
Submitted by Hardeep Sidhu on Sat, 10/04/2014 - 20:27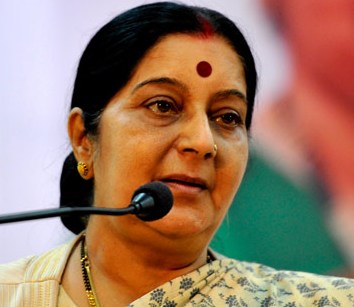 Kalka (Haryana), Oct 4 : External Affairs Minister Sushma Swaraj promised a slew of measures for the development of Haryana, including increasing old age pensions and building sports stadiums, in a rally here on Saturday.
"There has been a rule of arrogance and loot for the past 20 years in Haryana, but we promise that the kind of rule the BJP has envisaged, we will give you a humble rule. We will develop the state and work for the poor. That's why we have kept a big agenda in front of the people of Haryana," said Swaraj, addressing the rally just a day after returning from the United States.
"We don't want the governance of loot, we want a clean governance. If you want that then vote for BJP on the 15th," she added.
Amongst the measures promised by Swaraj were increasing old age pension and ensuring safety for women.
"We have decided that if BJP comes to power in Haryana, the senior citizens' pension would be increased to Rs 2000 per month. The number of women in the police force will be increased. We will also provide free bus passes to the female students and ensure that every bus has a security guard for the safety of women," she said.
The External Affairs Minister also said that her party would build more sports stadiums if it came to power.
"We want to build stadiums in every block in Haryana, this state offers a lot on the realm of sports," she said.
Swaraj is also scheduled to address a total of 22 rallies in Haryana before the Assmebly polls scheduled to be held on October 15. (ANI)