Sushma Swaraj to visit Nepal from July 25
Submitted by Hardeep Sidhu on Wed, 07/23/2014 - 21:59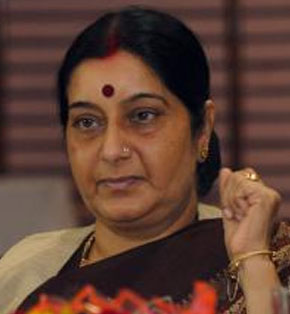 New Delhi, July 23 : External Affairs Minister Sushma Swaraj will undertake a three-day official visit to Nepal from July 25 to July 27. She had earlier visited Bangladesh.
"The External Affairs Minister is visiting Nepal from the 25th to the 27th of this month. Just exactly one month ago, the minister visited Bangladesh. On 26th July, when she will have the joint commission meeting with her counterpart from Nepal, she would be on her second solo visit to the neighbourhood. That gives an idea the importance that the Government of India is giving to the neighbourhood," said MEA spokesperson Syed Akbaruddin in a press conference.
"Our intention, endevour and hope is that the External Affairs Ministers visit to Nepal will pave the way for Prime Minister's early visit to Nepal," he added.
Apart from holding a joint commission meeting with her Nepalese counterpart which will be the prime focus of her visit. Swaraj will also meet with the top leadership of the neighbouring country including with the President and the Prime Minister of Nepal and a cross-section of political leaders in Nepal across the entire spectrum.
The joint commission will be meeting first time after 23 years and it will be structured into five clusters.
The five clusters in which the joint commission will meet include, Political, security and border issues; Economic Co-operation and Infrastructure; Trade and Transit; Power and Water Resources; Culture, Education and Media.
Given the wide variety of issues that the joint commission is to address the delegation will consist of representatives of a wide varieties of ministries, they will include from Ministries of power, Water Resources, Commerce, Road Transport, Railways, Human Resources Development, Culture, besides the Ministry of External Affairs and Indian Council for Cultural Relations (ICCR).
Even though the joint commission is meeting after such a long period, India has 25 bilateral mechanisms with Nepal where both are interacting with the leadership on a regular basis. The bilateral trade between the two nations is approximately USD 4.7 billion. India accounts for 47 percent of foreign direct investment in Nepal. There are six million Nepalese workers in India, annually three thousand Nepalese are provided scholarships. (ANI)
Technology Sector