Taiwan's president-elect says no plan to boycott Olympics for now
Submitted by Sahil Nagpal on Fri, 04/11/2008 - 16:55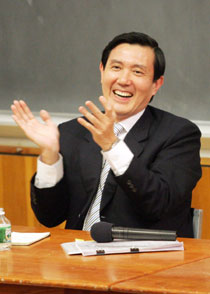 Taipei - Taiwan president-elect Ma Ying-jeou has no plans to boycott the Olympic Games in Beijing, at least for the moment, over the Chinese crackdown on Tibetan protestors last month.
"On the issue of the boycott, I have two preconditions, first, if they continue their suppression of Tibet, and second, if the Tibetan situation worsens to a point where we consider it intolerable," said Ma in an exclusive interview at the Nationalist Party, or Kuomintang (KMT), office in Taipei Thursday.
Ma has been criticized by his Democratic Progressive Party presidential opponent Frank Hsieh for proposing to boycott the Beijing Olympics in August in order to make him look tougher in the face of China's bloody crackdown of Tibetan protestors.
His proposal also triggered negative responses from local athletic groups, who thought Ma should never have mixed politics with sports.
Taiwan has been a member of the International Olympic Committee since 1979 and is able to send athletics to take part in all international sports events under the title "Chinese Taipei" instead of its official Republic of China title or informal Taiwan title opposed by Beijing.
Ma explained that he raised the boycott issue because he was quite upset about what had happened in Tibet.
"My initial reaction only was to condemn severely the crackdown and when the premier, Wen Jiabao, came out and made some comments, we were actually furious because he mentioned about Tibet and Taiwan together," Ma said. "That gave my opponent enough ammunition to attack me."
He was referring to Hsieh's attack that his attempt to seek to sign a peace agreement with China would turn the island into the next Tibet.
China and Taiwan split at the end of a civil war in 1949. Beijing has considered the island an integral part of China that must be brought back to its fold, if necessary by force.
In a comment on the crackdown last month, Wen said the Chinese authorities would not tolerate Tibetan independence or Taiwan independence.
Ma said the whole world is watching further developments in Tibet. "Even some European countries have considered to boycott the opening ceremony of the Olympic Games. That shows that our concern is not unfounded," he said.
But he emphasized that unless more critical things happen in Tibet, he has no plans for a boycott. "We don't know what has happened in the last two weeks," he said.
He called on Chinese leaders to have a dialogue with the Dalai Lama to resolve the issue. "I think that he (the Dalai Lama) is a rather moderate leader, not calling for Tibetan independence and he also denounces the use of force," Ma said.
He said the Dalai Lama opts for "one country, two systems" model in upholding the autonomous status of Tibet. That model was introduced by China in the early 1980s to try to woo Taiwan into reuniting with the mainland, an attempt flatly rejected by Taiwan.
Asked if he would welcome the Dalai Lama to visit the island, a trip that is likely to anger China, Ma said: "Certainly we will welcome him if he wants to come to Taiwan." (dpa)