Team India wins Kanpur ODI, leads series against Pak by 2-1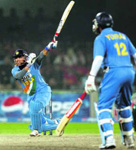 Kanpur, Nov 11: Team India on Sunday beat Pakistan by 46 runs to lead the five-ODI series by 2-1 here. The Men in Blue dominated today's game from the very onset at the Green Park stadium with the duo of Yuvraj Singh and skipper Mahendra Singh Dhoni contributing a total of 151 runs in the 294 score that the team made.
Yuvraj was adjudged the Man of the Match for his 77 runs in 95 balls that had 4 fours and three sixes.
"I would like to do well in Test cricket, " Yuvraj said in the post match felicitation.
However, the best praise for him came from his skipper, who termed him as the team's 'trump card'.
"He (Yuvraj) is our best batsman. We want him to play 30 overs and we will always (set) a good total if he is around, " Dhoni said.
Earlier, Pakistan won the toss and elected to field. They had targeted to limit India to 250, as revealed by Pakistan skipper Shoaib Malik later, but their game plan did not take off as India made a scintillating start by scoring first 50 runs in 7.1 overs.
By the 15 th over India had lost two wickets in Sachin Tendulkar and Saurav Ganguly and it affected the run scoring momentum of the team to an extent.
However, the Yuvraj-Dhoni duo made the difference and helped the team cross 200.
As Yuvraj returned to pavilion after being caught by Misbah-ul-Haq on a Abdur Rehman's delivery, India had 260 runs on the scoreboard.
India finally finished the inning at 294 runs in 50 overs and after losing six wickets.
From Pakistan side Sohail Tanvir gave the best deliveries. He bowled 10 overs, conceded only and took two wickets. The second best bowling figure from his team was of 'Rawalpindi Express' Shoaib Akhtar who took one wicket and conceded an average of 4 runs per over.
Abdur Rehman and Shahid Afridi proved costlier from Pakistan as their economy went above 8 runs per over.
With a target of 295 runs to reach, Pakistan started on a weak note as Afridi was sent packing to pavilion by Irfan Pathan in the 4 th over.
Pakistan lost wickets in regular interval with Younis Khan in the 9 th over, Mohammad Yousuf in 18 th over, Shoaib Malik in 28 th over, and the score was then 134 for four.
It was only opener Salman Butt who kept the ball rolling and made a century (129 runs) before being lbw by Harbhajan Singh in the 47 th over.
"Salman played superb and we would like him to carry on with the good work, " Malik said after losing the match.
After Misbah-ul-Haq's departure at 38, Pakistani tail-enders fell as nine pins with Kamran Akmal, Sohail Tanvir, Abdur Rehman and Shoaib Akhtar contributing only seven runs altogether.
India's RP Singh though gave away 62 runs in 8 overs, he took three wickets and helped in the downfall of Pakistan, as they went all out for 248 runs in 47.2 overs.
India now leads the series 2-1.
However, Pakistani skipper is confident of reversing it.
"There are two games to go in this series and Inshallah, we will come back, " Malik said.
The next ODI is in Gwalior on November 15. (ANI)