Telangana draft bill may come before cabinet Dec 4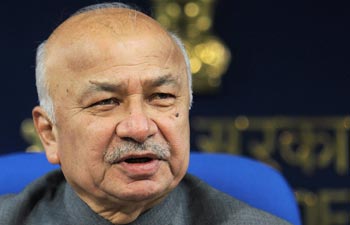 New Delhi/Hyderabad, Nov 28 : The draft bill for formation of separate Telangana state is likely to come up before the union cabinet on Dec 4 as the Group of Ministers (GoM) Thursday finalized its report.
The GoM headed by union Home Minister Sushilkumar Shinde is likely to submit its report to the central government early next week. Its recommendations may be incorporated in the draft bill being prepared by the law ministry to carve out Telangana as 29th state of the country.
After the union cabinet approves the bill at its meeting on Dec 4, the same will be sent to President Pranab Mukherjee, who in turn will refer it to Andhra Pradesh assembly for its opinion.
The bill is likely to be tabled in parliament in the third week of December. As the winter session is beginning on Dec 5, the central government is making all efforts to ready the draft bill by Dec 4. The session will continue till Dec 20.
The GoM is learnt to have finalized its report Thursday. Shinde, Finance Minister P. Chidambaram and Rural Development Minister Jairam Ramesh held an hour-long meeting to give final touches to the report.
Ramesh also met officials of the finance and personnel departments to get clarity on some issues with regard to their reports.
The GoM, which held wider consultations with political parties, central ministers from Telangana and Seemandhra (Rayalaseema and coastal Andhra) and various departments, has reportedly rejected the demands for union territory status to Hyderabad or for Rayala-Telangana state comprising districts of both Telangana and Rayalaseema.
The panel, which looked into 11 issues related to bifurcation, has reportedly finalized a report in line with the resolutions of Congress Working Committee and the union cabinet for carving out Telangana state comprising 10 districts. Hyderabad will be the common capital of the two states for 10 years.
The ministerial group is learnt to have made some recommendations to address the apprehensions of Seemandhra people living in Hyderabad.
Shinde has already gone on record that the bill would be tabled in the winter session of parliament. He also stated that the central government is trying to find a solution which doesn't hurt anyone. (IANS)