Tiger Woods leads US to eighth President Cup win
Submitted by Sukhdeep Grewal on Mon, 10/07/2013 - 13:26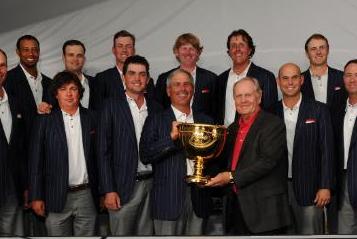 Wellington, Oct 7  : The United States has won the Presidents Cup for the eighth time, beating the Internationals 18-1/2 to 15-1/2 at Muirfield Village Golf Club after South African Richard Sterne was beaten by Tiger Woods.
According to Stuff. co. nz, with the Americans needing a total of 18 points to retain the trophy, Woods secured the decisive point by safely parring the final hole of his singles match.
The world number one, despite visibly suffering from back pain over the closing holes, came from one down after eight holes to seal a one-up win that gave the US an unassailable lead with two singles matches still to finish, the report said.
Woods said later that the win felt good and it was a team effort during the whole week, adding that they played really well, giving themselves a really nice lead going into the singles, in a tough day with tough conditions of rain and wind.
The US had needed only four points from Sunday's 12 singles encounters to keep the Cup, having established a lead of 14-8 earlier in the day after dominating the rain-delayed final foursomes session, the report added.
However, they had to work a lot harder than expected as the Internationals mounted a gutsy fight back, winning seven and a half of the matches, the report further said. (ANI)