Toronto stock market falls on Friday on lower commodity prices
Submitted by Shalini Kakkad on Sat, 03/02/2013 - 20:55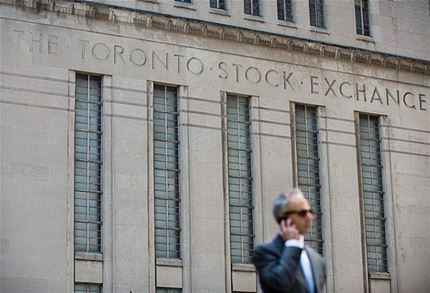 The Toronto stock market fell on Friday and closer lower due to the a decline in the commodity prices as the US lawmakers were not able to reach a deal to avoid an automatic tax increase and weak manufacturing data was reported form China for February.
Experts say that there are concerns that the new budget cuts would affect spending the world's largest economy, which is also Canada's largest trading partner, and this would impact the Canadian economy.  The U. S. government is facing huge automatic spending cuts as President Barack Obama and congressional leaders were unable to reach on a deal to aver the increase.
The Toronto Stock Exchange's S&P/TSX composite index fell 48.71 points, or 0.38 per cent, at 12,773.12.  The index has recorded an increase of 0.56 per cent during the week.  The mineral sector added pressure on the index as Barrick Gold Corp fell 3.4 per cent to C$30.20 as gold prices in the global markets.
The energy sector also fell after Brent crude prices fell to its lowest in several weeks and financial stocks followed suit a day after several banks recorded impressive quarterly results.  Royal Bank of Canada fell 0.4 percent to C$63.77 on Friday, while Toronto-Dominion Bank recorded a fall of 0.2 per cent to C$85.03.
The investor sentiment has also been affected by gloomy economy news from Europe and slower manufacturing activity in China.