Traders begin strike against local body tax in Maharashtra
Submitted by Keshav Seth on Mon, 04/22/2013 - 23:16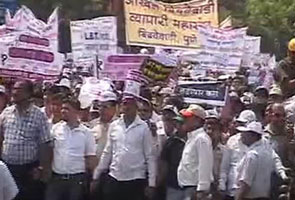 As many as more than a million traders and manufacturers have started a strike against the state government in Maharashtra on Monday to protest its decision to impose a local body tax in the state.
The Maharashtra government has indicated that it will impose the new local body tax in lieu of octroi in the state. The new LBT will replace traditional octroi in the various municipalities in the state. The LBT will allow the government to collect tax on every raw material brought into the city limits by all businesses, traders and manufacturers, under an account-based collection system.
It is expected that a total of 500,000 retailers from Mumbai and Thane will organise a strike on Monday. Retailers from Pune and the other parts of Maharashtra will also join the strike for a period of two days, according to Federation of Retail Traders' Welfare Association president Viren Shah.
"We do not want the LBT under any circumstances. We shall surrender our LBT registration by next week if the government does not withdraw it," Shah said.
The call for strike has been issued by Confederation of All India Traders and supported by the Federation of Retail Traders' Welfare Association, Shah said.