Traditional sweets and namkeen are integral to Punjabi festivities
Jalandhar, Mar 4 :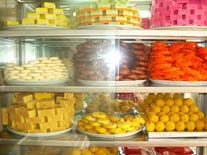 Be it a wedding or festival, people of Punjab have a tradition of distributing sweets and namkeens (salty snack) among near and dear ones. Though these delicacies are available at many outlets, buying them from Jalandhar holds its own charm.
Many people believe savouring these local delicacies called "Bhaji" in Jalandhar double up their taste.
One of the most popular shops for these sweets and namkeens in Jalandhar is of Devidas Yograj in the central town market. The appealing display of the delicacies like Mathiis, dry Samosas, Khurma and Ladoos makes it all mouthwatering for just anyone.
Though a big number of regular customers keep visiting this shop, there are many who get it packed in boxes to distribute it on special occasions.
"As people don't like sweets any more, they come here from far and wide to buy the delicacies. Here they get fresh and delicious items with a special taste," said one of the customers at Devidas' shop.
"I visited this shop for the first time along with my friend who wanted to buy Mathiis. Since then I turned a regular visitor here. I relish eating Mathiis of this shop in my breakfast," said another customer.
On wedding or any Punjabi festival, customers make a beeline at Devidas's popular shop for these sweets due to their special taste and variety. They want it in packets to distribute them among near and dear ones.
Distribution of these sweets and namkeens is viewed as a gesture of sharing happiness and greetings.
"It's a tradition that we are following. These delicacies are said to be lucky for any occasion," said Gurinder Singh, another customer.
Though these days children's favourite are sweets and chocolates, the taste of these sweets and namkeens received on special occasions like marriages or festivals holds its own charm.
Keeping track of the modern trends, Devidas has arranged for gift packs.
"We use only the best quality of ghee, maida (flour), and besan (gram flour). Today people don't eat sweets because of the high calories in it. In our dishes the sweet is minimal and can be preserved for a long time. Other sweets perish if kept for long, but `Bhaji' remains fresh even for a week and more," said Devidas, who has been into this profession for two decades. (ANI)