US Gestates Musharraf To Carry on Reform Practice
Washington: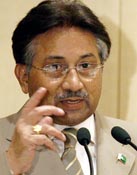 Against the background of the endeavor on the life of , the US said it stood by him and Washington thought that he should carry on the reformation practice in the country.
In his regular briefing, State Department Spokesman Sean McCormack said, "I'll leave it to the Pakistani officials to talk about what did or did not happen regarding President Musharraf. President Musharraf faces threats from extremists within his own country. That's not new. His prescription for dealing with this threat is to put Pakistan on a different course, with greater political reform, economic reform, and social reform. He's started that process. We think its importance (important) that he continues."
Mr. McCormack added that the United Nations had sureness that Musharraf is dedicated to that path and he would contract within the limits of Pakistani law and the Pakistani constitution any problems that may arise.
"We're a good friend. We're a good partner. We stand with him. But the solutions to whatever challenges may face the government are going to come from within Pakistan itself," McCormack said.