Vodafone CEO Colao discusses 'Digital India' with R.S. Prasad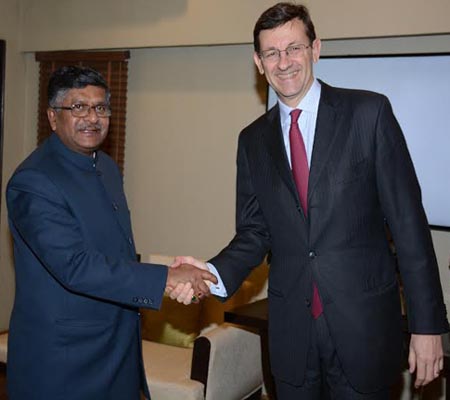 New Delhi, Feb. 4 - The Chief Executive Officer (CEO) of UK-based telecom major Vodafone, Vittorio Colao, met Union Minister for Communications and Information Technology Ravi Shankar Prasad, and discusses Digital India project.
Colao told Prasad that Vodafone could play an important role in providing the last mile connectivity by improving its network and building broadband penetration.
"It was an excellent meeting. We have very good alignment on the 'Digital India' project. We think we can have a great role on Digital India," said Colao.
Vodafone CEO said that he planned to list its Indian unit on local bourses and was waiting for the right time.
The government decided not to appeal a regional court ruling in favour of Vodafone Group Plc in a long-running tax dispute, in a move aimed at boosting investor confidence in Asia's third-largest economy.
Vodafone, the biggest foreign corporate investor in India, has been involved in a series of tax disputes since it entered the country seven years ago.
Meanwhile, Prime Minister Narendra Modi met global CEO of Unilever, Paul Polman, and President of Intel Corporation, Renee James.
Hindustan Unilever Ltd, the Indian unit of Anglo-Dutch consumer group Unilever Plc, reported an 18 percent rise in quarterly profit, beating estimates, helped by a revival in consumer spending and lower raw material costs. (ANI)