When in Bonn, a visit to Beethoven's birthplace is a must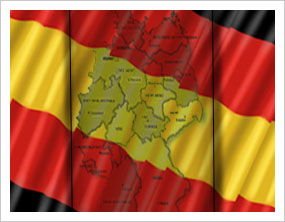 Bonn, Germany - The prominent statue of Ludwig van Beethoven in Bonn shows the composer striking a self-confident pose as he gazes over the Muensterplatz with his impressive head of hair.
The monument was erected by citizens in downtown Bonn in 1845 to mark his 75th birthday. It was designed to show the maestro as an inspired genius with raised eyes and about to receive a creative thought which he intends to write down in his notebook straightaway.
Locals used it at the same time to pat themselves on the back - after all, Beethoven is the most famous son of the town on the River Rhine even if he only spent 21 years of his life there. The house where he first saw the light of day still stands and has not changed a great deal since little Ludwig once clambered up the staircase.
Around 120 years ago a group of 12 Beethoven admirers and local patriots ensured that the once ramshackle building was saved for posterity and turned into a museum. Today a visit to the chambers is a must for anyone who comes to the town which used to be Germany's federal capital, and not just for dedicated fans of the great composer.
The courtyard of the yellow-painted house with its transom windows, wooden window sills and walls covered in Virginia creepers has a cosy feel to it. "See that little room up there on the right? That was where he was born in December 1770," said Roswitha Samson pointing to the opening behind her.
"His grandfather came from Brabant in what is now Belgium and was a singer at the court of the electoral prince of Cologne," explained the tourist guide. Ludwig was born into a musical family and accustomed to music from the cradle onwards. His father Johann was also a musician and earned his keep as a tenor and by giving lessons.
The Beethoven House museum brings the family's history to life and contains many artefacts from the composer's life, including a lock of his hair and the tiny bonnet he wore when he was christened. The ceremony took place on December 17, 1770.
"We don't know exactly when he was born, probably the same day," said Roswitha Samson.
Beethoven's first published composition is on display - "a set of piano variations by an 11-year-old!" - along with the desk at which he worked on drafts of the second movement of his 7th Symphony.
Many of the exhibits such as his spectacles and shaving implements document the composer's everyday life. The display cabinets also contain a violin he once played along with a silhouette portrait of the 16-year-old Ludwig.
At this tender age he journeyed for the first time to Vienna where he hoped to be taught by the much-admired Wolfgang Amadeus Mozart. After just two weeks in the city Beethoven learned that his mother had been taken severely ill and he was forced to return home. His mother died shortly afterwards.
It was a severe blow to Beethoven who had loved his mother dearly. His relationship with his father remained strained. Johann Beethoven was determined to turn the child prodigy into a great composer and imposed a strict regimen.
"Sometimes when he came home from the tavern in the evening he would wake up Ludwig who was forced to overcome his drowsiness and perform for him," said the guide. Beethoven's father spent a considerable amount of time in pubs. "He was an alcoholic and often drunken at home."
The maestro's life was plagued with difficulties and the large collection of hearing aids such as special ear horns bear witness to the deafness which dogged his later years. He developed the symptoms aged only 30 and later became totally deaf - a terrible fate for such a gifted musician.
Beethoven was unlucky in love as letters found after his death reveal. He wrote to a woman he admired "but never posted the correspondence," said the guide. To this day no-one knows for sure to whom he was writing.
Many portraits depict a grim-looking Beethoven but there could be a simple explanation for that. Most of the images are based on a mask made of his face.
"When that was done he would press his lips together firmly so as not to swallow any of the plaster of Paris used." (dpa)