Why issue of terrorism not on NIC meet agenda: Modi, Raje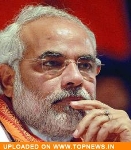 Ahmedabad, Oct 12 : Gujarat Chief Minister Narendra Modi and Rajasthan Chief Minister Vasudhara Raje have taken strong exception to the United Progressive Alliance (UPA) Government's decision of not including terrorism in the agenda of the National Integration Council (NIC) meeting to be held on Monday.
The two Bharatiya Janata Party (BJP) leaders have shot letters to Prime Minister Dr. Manmohan Singh in this regard.
While Modi said the Central Government's decision showed that it was not serious about national security and unity in the face of recurrent terrorist attacks, Raje accused the UPA Government of being "hostage to votebank politics".
Modi has also objected to having received the agenda details only on Friday evening, along with other Chief Ministers, which did not give sufficient time to prepare for the meeting, according to a press release. 
Modi claimed, "Terrorism is proving to be the biggest challenge to the country, and the security of the innocent citizens is the topmost priority of the Central as well as State Governments."
Modi further said that he had raised the issue of forming a strategic plan with Dr. Singh on several occasions, requesting him to convene an urgent meeting of the NIC.
Now that an NIC meeting is being convened, terrorism should be its focal agenda, as it is a proxy war, Modi added. (ANI)