Winter session of Parliament expected to be a stormy session
Submitted by Rajvir Khanna on Wed, 11/21/2012 - 16:28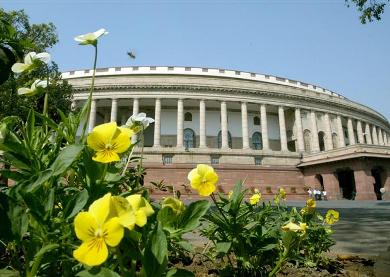 The winter session of Parliament, which will begin on November 22 and end on December 20, is expected to be a stormy session as the government will be back with financial sector reform on the agenda.
While the government has plans to table twenty-five Bills for consideration and passage during the imminent session, Trinamool Congress is preparing to bring a no-confidence motion against the Congress-led UPA government over the FDI in retail issue.
The list of Bills that are on the government's agenda for the upcoming session includes Bills on insurance, banking, pension and companies. The government had plans to get these Bills passed in the monsoon session, but the Bills couldn't be cleared because the session remained dominated by various scams.
However, the government is confident that it will be able to get the Bills passed during the winter session. Parliamentary Affairs Minister Kamal Nath said the Finance Ministry was consulting other political parties to enable the Bills get passed this time.
Congress spokesperson P C Chacko said, "Getting economic Bills cleared is the priority of the government but we first have to clear the political hurdle of defeating the no-confidence motion."
Interestingly, the list of Bills doesn't include politically sensitive Bills like those on Food Security and Land Reforms.
Technology Sector