Women's farm cooperatives propel socio-economic empowerment in Uttar Pradesh
Submitted by Sahil Nagpal on Sat, 03/08/2008 - 20:46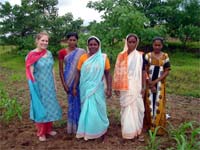 Gaurikila/Ghughuri (Uttar Pradesh) Mar 8: Women in Gaurikila and Ghughuri villages of Uttar Pradesh have paved the way for self-empowerment and social entrepreneurship through cooperative farming.
Around 4500 women in these villages have become economically independent by practising co-operative farming. Besides, they have also formed self-help groups to sort out problems.
The women grow a variety of crops like potato, pineapple, guava, wheat, rice and even flowers.
"We have collected Rs 2000 for farming. We grow vegetables including potatoes and cauliflowers with the help of labourers. After the vegetables are sold, we make payments to the labourers and retain the rest of the money," said Vijaylakshmi, a resident of Gughuri.
The Women Welfare Association that has helped these women become economically independent believes that they can become examples for women in other parts of the country.
"Women are earning profits. This has enabled them to meet their family expenditure. They are not dependent on anybody. Earlier banks were reluctant to give them loans. But now, banks are more than eager to lend them money," said Dr Rajnikant, President, Human Welfare Association, Varanasi. (ANI)