This year's final pulse polio drive will continue November 9
Submitted by Piyush Diwan on Mon, 11/05/2012 - 15:40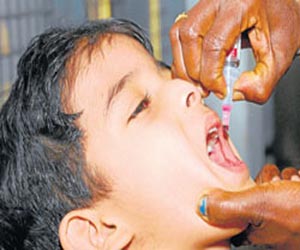 This year's final pulse polio drive will go on in form of a week-long door-to-door campaign till November 9.
In Delhi, Chief Minister Sheila Dikshit launched the pulse polio programme on Saturday by administering polio drops to around fifty children.
More than 25 lakh children will be administered drops at more than 8,000 centers established in schools, bus terminals, hospitals, metro stations, railway stations, airports etc.
Dikshit said Delhi has already become polio-free and the whole country was at the threshold of becoming polio-free.
Speaking on the topic, Dikshit said, "The country is at the threshold of becoming polio-free as only one case was reported during 2011. Further, this year there has been no case of polio till today."
The Delhi Chief Minister added that polio drops were being administered in Delhi as a precautionary measure.
In Kanpur, a total of 2051 fixed and 112 transit polio booths were organized, but the booths recorded 34 per cent turnout in the city. As part of the door-to-door pulse polio drive, each polio team will cover around 200 houses from Nov. 05 to Nov. 09. To make the ongoing pulse polio drive a big success in rural regions, the district administration has partnered with several NGOs.