Philippine military vows not to hamper Ramadan despite offensive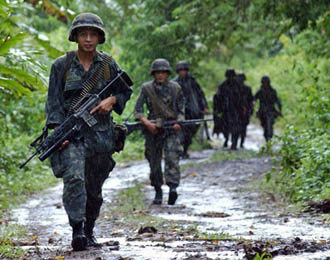 Manila - The Philippine military on Friday vowed not to hamper the observance of Ramadan by Muslims in the country's southern region despite rejecting calls to halt an offensive against Muslims rebels during Islam's holy month.
Government troops have been conducting airstrikes and ground assaults against Moro Islamic Liberation Front (MILF) rebels in various areas in the southern region of Mindanao since earlier in the month when the guerrillas launched a spate of deadly attacks.
The hostilities have already killed 60 civilians, 110 rebels and 17 soldiers, according to the military. More than 360,000 residents have also been displaced by the fighting.
With Ramadan starting on September 1, various groups have appealed for the military to suspend the offensive against the MILF to allow Filipino-Muslims to peacefully observe the holy month.
But the military said it "needs to sustain its gains" in going after the MILF commanders and rebels who were behind the attacks that started on August 10.
"The operations are directed only against the perpetrators of un-Islamic acts," the military said in a statement. "Tactical adjustments will be made to strike a balance between law enforcement of the law and allowing the proper observance of religious practices during the month of Ramadan."
The statement added that President Gloria Macapagal Arroyo has also assured assistance to Muslims displaced by the fighting "so that they too can observe Ramadan unhampered."
The military overran several encampments of MILF rebels, including a main camp of a commander who allegedly led attacks on towns in Lanao del Norte province, 810 kilometres south of Manila, last week.
The conflict escalated after the Supreme Court stopped on August 4 the signing of a controversial territorial agreement between the MILF and the government that would have expanded an existing Muslim autonomous region in Mindanao.
The Philippine government has announced it would no longer sign the deal amid strong opposition to it, creating an impasse in peace talks with the MILF - the largest Muslim rebel group fighting for an Islamic state in Mindanao. (dpa)