Raj Thackeray says no Jet Airways to take off from Mumbai if lay-offs continue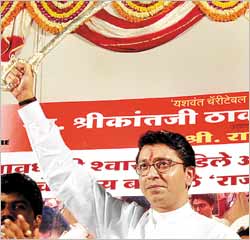 Mumbai/Hyderabad, Oct. 15 : Maharashtra Navnirman Sena (MNS) chief Raj Thackeray on Wednesday warned that no Jet Airways flights would be allowed to take off from Mumbai if the airline continued with its policy of laying off employees because of the crisis affecting the aviation sector.
Thackeray''s warning came as the airline said that it would lay off 800 cabin crew and reduce services to cut costs.
Thackeray said that his Maharashtra Navnirman Sena will meet with Jet Aiways officials on Thursday to discuss the issue. He said that the step was being taken after some of the sacked Jet employees had approached the MNS for help.
Saying hard decisions were the only option on the table, the airline said in a statement that around 800 probationary flight attendants have been let go, and more jobs are set to be axed in other categories.
"The number of flights Jet Airways will be offering in winter schedule will be approximately 15 per cent lower than originally planned. This is inevitable in view of the declining traffic volumes," the airline said.
The entire force of unconfirmed staff is being laid off on a 30-day compensation package, a top Jet Airways official, who did not want to be named, said.
"It is part of handling economic slowdown and carefully rationalising the operation," the official said, adding the downsizing is based on capacity, load-factor and traffic patterns.
Jet Airways and Kingfisher Airlines, both of which account for 60 per cent market share in India, had announced an alliance on Monday to share their resources and routes.
Both Naresh Goyal of Jet and Vijay Mallya of Kingfisher, who are in Hyderabad to attend the airshow here, denied any merger moves. (ANI)