Taiwan to enact world's strictest law on veggie food labeling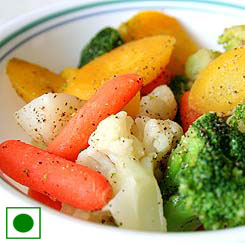 Taipei - Taiwan is to enact the world's strictest law on labeling vegetarian food at the request of Buddhists and people who eat vegetarian for health reasons, the health ministry said Monday.
Starting from July 1, Taiwan food manufacturers must use five categories, up from the current two, to identify the content of vegetarian food. Violators will be fined from 40,000 to 200,000 Taiwan dollars (1,200-6,000 US dollars), the Department of Health said.
Currently the labelling only indicates whether food is pure vegetarian or contains no meat but egg and milk. Now added are categories separating egg and milk as well as vegan.
Pure vegetarian refers to food which does not contain meat, egg, milk or plants including onion, garlic or leek, which are spicy and considered unclean and bad for meditation. They are banned for strict Buddhist practitioners. Vegan, on the other hand, may contain the "unclean" vegetables.
The new rule also bans food manufacturers from labelling food as vegetarian if it is fermented - like chilly sauce - and its alcohol content exceeds 8 per cent.
"We request clear labeling of vegetarian food to meet the needs of the growing number of vegetarian food users of about 2 million, and to help religious practitioners not break food taboos," health department official Hsu Ching-hsin said.
Most Taiwan food manufacturers support the government's labelling requirements, but find it difficult to implement them.
"We will comply with the rule, but we are afraid that it could be confusing to consumers if we print too much information on the food packages," Wu Hsu-hui, a spokeswoman for Uni-President Enterprises Corp, Taiwan's largest food conglomerate told the German Press Agency dpa.
But Pasadena Bakery, which sells more than 100 kinds of cakes and bread in three outlets in Kaohsiung, south Taiwan, sees no difficulty in following the new rule.
"We are already using the pure veggie and egg/milk veggie labels. It is easy for us for us to expand that to five labels," Chien Su-ling, the bakery's brand name manager, said. (dpa)